Zun Zun Egui
Zun Zun Egui
will be playing End Of The Road Festival 2012.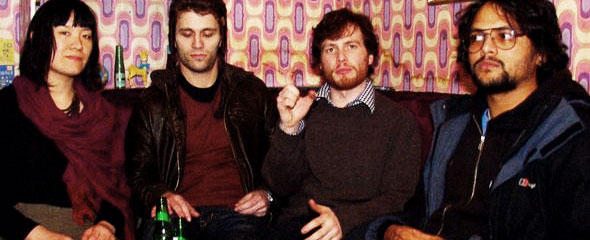 From Bristol, UK, everywhere and nowhere comes the wildfire sound of Zun Zun Egui, blazing a trail on tour and toting their debut album 'Katang' – out now on Bella Union.
Formed in the libertine and verdant undergrowth of Bristol's cultural side streets (members Kushal Gaya and Yoshino Shigihara first met at an improv session at notorious DIY cinema The Cube Microplex), Zun Zun Egui started out playing up and down the UK to hardcore and party crowds ready to be let loose by music. They self-released a limited editon CD-R and then, on the back of a snowballing word-of-mouth live reputation, started to invited to play shows all over the world from festivals, squat cafes, hotel lobbies and vast art centres and other unlikely spaces. Meanwhile they recorded two white-hot slabs of 12" vinyl at their Bristol based studio lair for Blank Tapes. Always with a desire to connect, ZZE and Qu Junktions cooked up their own colourful club night called "How Come…" in Bristol and had tour mates like The Ex and Sun Araw pull up and play as well as Micachu And The Shapes, Bass Clef, Krar Collective and AJ Holmes. Now Zun Zun Egui have dreamt up their debut album proper, and it's one to savour. Recorded in the Welsh wilds, 'Katang' was released on Bella Union in autumn 2011 with singles in advance.
Everything about "Katang", from its 50 minutes of freerange rock music to the wonderful fifth-world visual feel conjured up by keyboard player/singer Yoshino Shigihara, emits a weird, kinetic and contagious energy that could only have come from these four individuals coalescing as personalities and players, carving out an intuitive musical lexicon that, whilst far removed from rock's lingua franca, finds its own way to connect on a direct and universal level. Away from the tribal sprawl of modern music culture and what they call "the realm of ideas", "Katang" finds Zun Zun zoning in on the heart of the matter.
Having toured Europe around Katang's release, Zun Zun blew a storm into Vietnam in November, playing two killer shows in Hanoi and Ho Chi Minh. This is a band with a penchant for rocking the outer reaches…now their wheels are greased for their biggest year of live actions yet in 2012. Live ZZE tune in and then explode, all angles, taking the audience with them. Wild multi-lingual vocal incantations and splenetic, world-wise guitar licks mingle with zig-zag splashes of keyboard colour, while heavy, heavy bass and drums offer the crucial undertow that commits any foot with feeling to the dance. Sometimes the songs never end, sometime they are short and sweet.
Elsewhere on the web: