The Shivers
The Shivers
will be playing End Of The Road Festival 2012.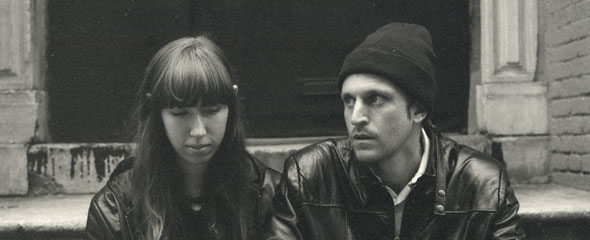 THE SHIVERS are a folk-rock group, from Queens, New York, comprising the exceptional talents of Keith Zarriello (lead vocals, guitar) and Jo Schornikow(vocals, keys/organ).Keith is your typical East Coast American tortured neurotic / love-lorn romantic, and part time estate-agent; Jo, your typical Australian travelling dreamer, virtuoso keyboard player, and part time church-organist.
A prolific and enigmatic songwriter, Keith started performing in 2001 and, as The Shivers, has written, recorded and released 5 albums of bittersweet (although often just bitter or sweet) Telecaster-anthems; Charades (2004), Phone Calls(2006), Beaks To The Moon (2008), In The Morning (2009) and More(2011).
Melbourne resident Jo relocated to New York after falling in love with Keith's music, joining the group in 2006 and contributing her own songs. The pair have toured extensively ever since, steadily building up a loyal following, and becoming a cult favourite within the American DIY gigging circuit.
Elsewhere on the Web