The Lost Brothers
The Lost Brothers
will be playing End Of The Road Festival 2012.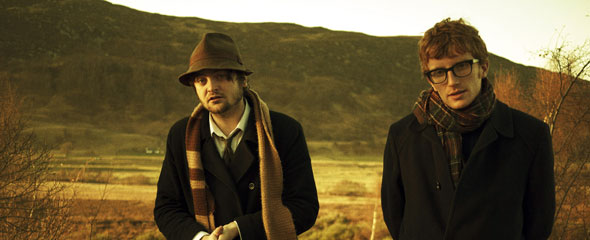 Since the release of their acclaimed debut album, Trails of the Lonely, The Lost Brothers have kept on the move, calling no place their home. In 2011 The Lost Brothers have performed in London on the same bill as Bob Dylan & Van Morrison, they opened the main stage at this summer's Electric Picnic festival, and they have been busy in Nashville recording with Brendan Benson of the Raconteurs.
The brothers have just returned from New York where they played the Other Voices Show, with a lineup that included the best of Irish actors (Gabriel Byrne), musicians (Glen Hansard), and writers (Roddy Doyle), alongside American artists (Martha Wainwright and Laurie Anderson).
So the Losties are in good company while on the road. On their follow up album, So Long John Fante, they continue to keep good company. Recorded in twelve days last year in Sheffield along with Richard Hawley's Band, the brothers have delved into their record collection and book shelves for inspiration.
On tracks such as Only by the Light of the Moon and In the City you can hear drops of doo wop influences with a touch of Phil Spector, on songs such as Golden Dawn and Hollow Call The Lost Brothers sweep you off into the depth of the forest to get lost with them. Tipping a hat to their literary hero, John Fante, this is an album that flows in a gumbo melting pot of influences with touches of country rags (Oh Brother), doo wop (Only by the Light of the Moon), golden era rock and roll (The Goodbye kid), dark folk tales that echo John Steinbeck (Pale Moon, Hollow Call) and tales of love gone wrong (Killing Heart and Bells Wont Ring).
At the same time it's all sprinkled with that magic Lost Brothers dust that makes it all sound just like them. You'd be forgiven for thinking The Lost Brothers were a folk duo, but I think not. Their music recalls many genres while remaining genre-less.
They just sound like The Lost Brothers. Call it what you will, but the truth is that these two brothers have a lot more to offer.
And watch this space because this is only a beginning. The Lost Brothers are here to stay.
Elsewhere on the web: