The Acorn
The Acorn
will be playing End Of The Road Festival 2012.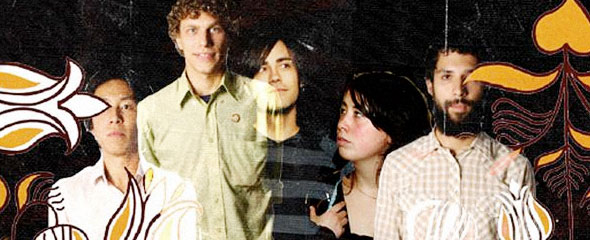 The Acorn is a Canadian indie folk band from Ottawa, Ontario, formed in 2003. Rolf Klausener is the principal songwriter, as well as vocalist and guitarist. The other members are drummer Jeffrey Malecki, guitarist/visual artist Howie Tsui, bassist Jeff Debutte, and Montreal keyboardist/vixen Keiko Devaux. Devaux joined The Acorn in 2006, and redheaded multi-instrumentalist/hype-boy/hype-man Shaun Weadick joined in 2007. In North America, they are now signed to Paper Bag Records, but also have releases from Kelp Records. They are signed to Bella Union in the UK and Europe.
(Information taken from Wikipedia, licensed under the GNU Free Documentation License.)
Listen to The Acorn:
Interview from 2008 programme
Words: Siobhan Marshall
The Acorn's newest album, Glory Hope Mountain is part-biographical narrative, part-surreal fairy tale. It's based on the story of Gloria Esperanza Montoya, as told by her son, songwriter Rolf Klausener – a sonic retelling of the stories from Gloria's beginnings in Honduras to her immigration to Montreal in 1972. The music is blessed with intricate arrangements and euphoric harmonies: dreamy, evocative and lush. You may not want to miss this one…
What do you look for in a festival?
"I tend to use the Hillside Festival in Guelph, Ontario as my benchmark. It takes place in a nature conservation area on the edge of town, among lush, southern farmland. I'd love to say the music is its biggest selling point, but really it's a healthy mix of all its component parts: its inescapable food tent, the mid-afternoon swims in Guelph Lake, the eclectic workshops, the helpful volunteers and for me, the community of Canadian artists and friends you see there, year after year."
What's been your favourite show of 2008 so far – and why?
"To see: Brooklyn's Dirty Projectors and Vancouver's No Kids, March at the Sala Rossa in Montreal. To play: the rainy and windy workshop we played on the second day of the Winnipeg Folk Festival this past July with Calexico and Toronto's Apostle Of Hustle. As Martin and Jacob (Calexico's horn-players) kicked in on the first chorus of 'Crooked Legs', everyone in The Acorn were sporting pretty serious grins."
Any tips for helping save the environment?
"Don't drink bottled water. Get rid of incandescent lightbulbs. Give James Howard Kunstler a wrecking ball and a budget and let him destroy North America's suburbs and redesign our cities so that I can walk everywhere. Don't eat Whales, Pandas, Dodos or Peacocks."
How do you hope people feel when they walk home from one of your shows?
"Sticky: from having Howie spill beer on them; also, a warm but disconcerting feeling that nothing and everything will always work out, someday."
Have you got a festival survival kit; and if so, what's in it?
"A headlamp, hash, ear plugs, my bandmates." What's the biggest misconception about you? "That I might need a festival survival kit. That I love my mother (when in fact I lurv her). That we're folk-anything. That we're from Toronto. That I have a chin (my beard goes directly hair to neck)."
Finally, who are you most looking forward to seeing at End Of The Road?
"Kurt Wagner, because his album Is A Woman is my all-time favourite summer album, and because his voice sounds like he drank some magical drain-cleaner as a child. Mercury Rev, because their song 'Spiders And Flies' from All Is Dream reminds me of an old ex-girlfriend disrobing. Bowerbirds, because they're a bunch of cute drunks. Dirty Three, because they're a bunch of not-so-cute drunks, and 'Sue's Last Ride' reminds me of said ex-girlfriend and I, doin'."
Elsewhere on the web: