Seth Faergolzia
Seth Faergolzia
will be playing End Of The Road Festival 2012.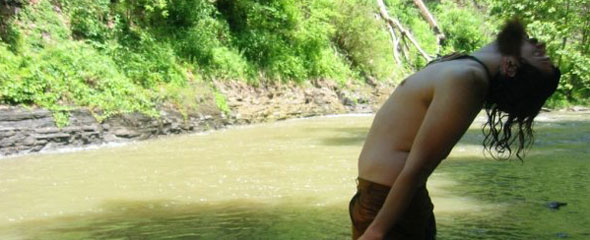 Seth Faergolzia (Dufus) takes to the wind again on a European tour, releasing a new album, Tin Wood Soldier. As the mastermind behind Dufus, possibly the most creative and well-loved underground band in the Anti-folk/Freakfolk communities of New York City, with a likewise respected solo career, stacking up more than ten albums & playing in over 20 countries with such acts as The Yeah Yeah Yeahs, Jeffrey Lewis, Regina Spektor, The Moldy Peaches, Animal Collective & others, Seth's music remains a wonder to the listenful.
Keeping in tune with the warm & weird legacy of his renowned former project, Seth continues to stretch the boundaries of musical experience with craze & care unmatched by the contemporaries with whom his style has been compared (including Frank Zappa, Deerhoof, Devendra Banhart, The Moldy Peaches & The Dirty Projectors), with an increasingly honed wisdom & intimacy.
Faergolzia brings his one-man-band skills to new levels of musical sagacity, mastering simultaneously the guitar, kick drum, electronics, vocal acrobatics, and various melodic instruments, concocting music which lives free beyond the scope of particular genre labels. With harmonic subtlety, poetically experimental lyricism and all around dynamic song writing, each of Seth's performances lovingly unweaves time to reveal moments honest & organic in exploration of possibility.
Elsewhere on the Web