Robyn Hitchcock
Robyn Hitchcock
will be playing End Of The Road Festival 2012.
Robyn Hitchcock played End of the Road festival in 2008.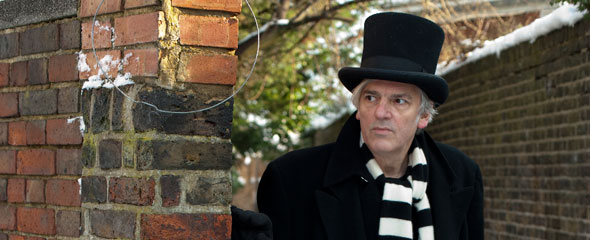 Robyn Hitchcock has been playing what is know known as psyche-folk since long before it had a name. Arcane influence on quality musicians from
Julian Cope to the Decemberists, Robyn's group The Soft Boys were the musical conduit that linked the 1960′s to the 1980′s. Not many people realize that Robyn
actually exists – he is seen largely as abstract force in music history. He attracts cats and repels footballers. His favourite colour is purple & green and
he eats many of the same things as a pelican does, but not all of them.
Songs written by Robyn Hitchcock include: Queen Elvis, Madonna Of The Wasps, I Wanna Destroy You, The Cheese Alarm, Goodnight Oslo,
I Feel Beautiful, The Wreck Of The Arthur Lee, 1974, The Queen Of Eyes, Dismal City, Give Me A Spanner Ralph, So You Think You're In Love
and You & Oblivion among hundreds of others.
Robyn has worked/played with: Peter Buck, Mike Mills, Gillian Welch & Dave Rawlings, KImberley Rew, KT Tunstall, Green Gartside, John Paul Jones,
Tanya Donelly, Nick Lowe, Johnny Marr, Kathryn Williams, I Was A King, Martin Carthy and Graham Coxon among others. (Colin Meloy of the Decemberists
sings harmony on Hurry For The Sky)
Elsewhere on the web
The Museum of Robyn Hitchcock
Facebook
Youtube
Soundcloud
Myspace
(Notes taken from the A-Z section in the 2008 festival programme.)