Money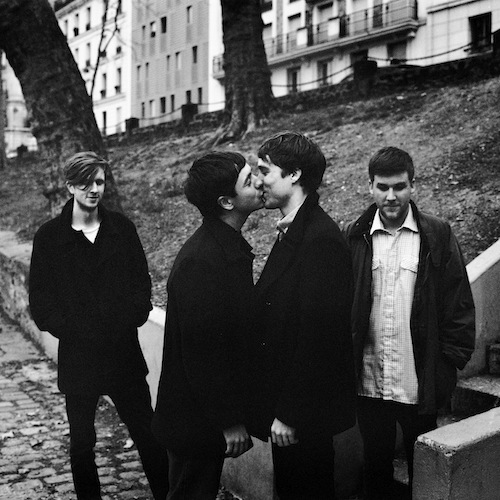 The Manchester-based band MONEY are releasing their debut album, The Shadow of Heaven, on Bella Union records in August 2013. Recorded in London, England, through the deep, dark winter of 2012 and 2013, it's an ethereal, transcendent record that's notable for its musical and intellectual ambition. Though ambition is perhaps not quite the right word. Because MONEY would never talk about ambition. Such things don't sit well with them. They'd talk about anti-ambition and the revision of existing values — the kind of bold gesture already signalled by their unabashedly iconic name. It's an album that defies convention and cliché, asking us instead to be courageous enough to see the world in different ways. This might mean risking everything. As lead singer and ideologue Jamie Lee says, 'Our aim with this band — in all things we do — is to create the world afresh on our own terms.'
Jamie's fellow band members are Charlie Cocksedge, Billy Byron and Scott Beaman. Having formed in Manchester amidst a prolific underground milieu that simultaneously gave birth to the likes of G R E A T W A V E S and Kult Country, they soon came to embody the passion, creativity and optimism of a new generation of artists and musicians who found themselves presented with what Jamie describes as 'an extraordinary, poetic city' rather than an historical dead-weight. Taking the place to their hearts and being well-fancied in return, MONEY proclaimed that 'Manchester is paradise' and set about creating a city in their own image: a city full of transvestites and drunken lovers, drug-takers and holy fools.
It should be said that much of this new dawn was also heralded in Salford, Manchester's darker, sexier sister city … Here MONEY played shows in esoteric venues such as the Sacred Trinity Church, where they took to the altar all decked in white, with modernist, geometric light installations hanging from the ceiling on long wires. It was heavenly … but not for long, for they immediately lapsed from the sacred to the profane, decamping to a former bag factory in an industrial estate near Strangeways Prison known as 'the Bunker', home to the cult independent label and 'cultural regenerator' SWAYS, who released the band's debut 7" single, 'Who's Going to Love You Now' / 'Goodnight London' to wide acclaim in 2012. Nudity never being more than a belt buckle away, the vinyl artwork featured an outstretched and indecently exposed Jamie emerging from the shadows.
Seeing an opportunity to create a unique live performance space for themselves and their fellow bands, MONEY went on to curate a series of 'exhibition' events inside the Bunker, bearing their souls inside a wooden cage that resembled an elaborate medieval torture device. Thereafter, it seemed that the bar for live music had been lifted immeasurably higher by some northern God. The old venues and attitudes would not do. Instead, creative spaces emerged across an urban landscape that became a kind of canvas, people finding themselves at 'parties where you can express yourself however you want', says Jamie, 'parties where any band can play'. Preparation for the Bunker nights involved gangs of idealists printing huge posters of cult writers, turning the toilets into shrines to their cultural icons, and stapling together pamphlets with titles such as 'NEW HEAVEN WITHIN AN ANTI-WORLD – APHORISMS ON A SELF-DEFINED UTOPIA', full of freewheeling philosophy and visions of enlightenment. Those who were there found beauty in the void and cause for 'celebration in the heart of doom', as Jamie put it. They exchanged kisses and manifestos, knowing they'd landed in some kind of heaven, some kind of hell.
The band's extraordinary second single, 'So Long (God is Dead)', was released on the French label Almost Musique, accompanied by a video that set out exactly what they were about: sanctity and sinfulness, innocence and experience, the agony and the ecstasy of the human condition. A kind of artistic ritual of purification full of water imagery and blood rites, this was a singular statement of intent, asking us not to just watch but to immerse ourselves.
It was at this point that the Bella Union mogul Simon Raymonde decided he had to track them down: 'They're interesting people with a lot to say, and the live shows fascinated me. They were so extravagant and thoughtful, so rare in a new band.' After playing a live session for Raymonde's weekly show on Amazing Radio (the most listened to session in five years of the station), MONEY headlined Bella Union's 2012 Christmas party at the Union Chapel before taking to the studio to record
The Shadow of Heaven.
The album consists of ten songs that range from stripped-back piano ballads such as 'Goodnight London' and 'The Cruelty of Godliness' to the more epic 'Hold Me Forever' and 'Bluebell Fields'. Rooted in universal themes of the spirit, love and loss, the album also addresses man's condition in the modern world, issues 'such as isolation and mental health', says Jamie. It's an album full of yearning and
soul-searching, a voyage of (non-) discovery that only ends up finding itself and the sheer, aching beauty of questions asked in full knowledge of their own answerlessness. It's metaphysics for the modern age, which might not be quite as spiritually bankrupt and bereft of meaning as we once believed. 'One of the first places you hear music is at school, or church, with hymns,' says Jamie. 'I loved the melodic effectiveness of hymns and the sound in church, with echo and reverberation, I found it very moving. And hymns to me are the ancestors of the pop song.'