Jeffrey Lewis and the Junkyard
Jeffrey Lewis and the Junkyard
will be playing End Of The Road Festival 2012.
Jeffrey Lewis and the Junkyard played End of the Road festival in 2008.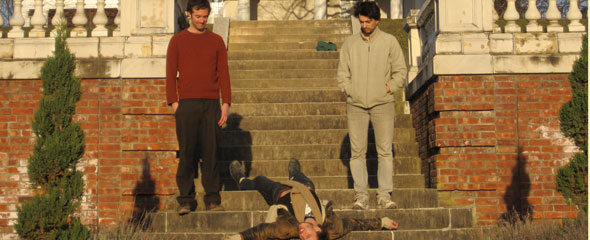 Born and raised New Yorker Jeffrey Lewis leads a double-life, as both a comic book writer/artist and a musician (or is that a triple-life?). His band Jeffrey Lewis & The Junkyard, featuring Jeff's brother Jack on bass and Bronx-native David Beauchamp on drums, also has a gloriously multi-faceted existence, restlessly exploring a stylistic swath from contemplative folk narratives to distortion-fueled garage rock to soundscape abstractions and more. Jeffrey Lewis & The Junkyard have toured the world from Los Angeles to London, Berlin to Beijing, Melbourne to Moscow, blowing minds all along the way and sometimes sharing stages and tours with the likes of Stephen Malkmus & the Jicks, Devo, Thurston Moore, The Fall, The Vaselines, Daniel Johnston, The Mountain Goats, The Moldy Peaches, The Cribs, Dr. Dog, Roky Erickson, and many other luminaries. Live shows often incorporate "low budget videos," Jeff's large illustrations displayed to accompany certain songs, such as Jeff's educational multi-part "History of Communism" or flights of fancy like "The Creeping Brain." In 2001 Jeffrey Lewis signed to Rough Trade Records and has since released six albums, the most recent of which is 2011′s "A Turn in the Dream-Songs" which was recorded at an all-analogue studio in Manchester, UK.
(Notes taken from the A-Z section in the 2008 festival programme.)