Eagle and the Worm
Eagle and the Worm
will be playing End Of The Road Festival 2012.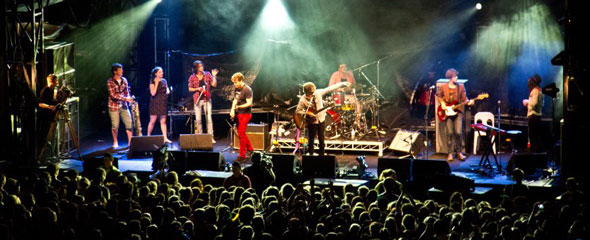 Hailing from Melbourne Australia, but spreading their gospel far and wide; 8 piece Eagle and the Worm made 2011 a cracker. Led by frontman and songwriter Jarrad Brown, dropping their debut album "Goodtimes", blending styles into a big stage show of psych pop, slacker pop, 5 part vocal breaks, horn blasts and fuzz solos- Taking cues from Pavement, Bowie, the Stones, E Street Band, Ween…Eagle have garnered critical and artistic acclaim across the board, in tastemaker blogs, Aus radio, and international syncs on HBOs Borad to Death. Eagle spent 2011 touring Aus/UK/EU playing countless festivals, co-labing with legends of the game- Hypnotic Brass Ensemble- Jarrad and HBE working on EATW Gooditimes remix mash ups at Electric Ladyland Studios NYC and dropping their debut L.P. in Australia. For a band that has been gigging for 18 months and recorded their debut album "Goodtimes" in bedrooms on a shoestring budget- The response has been overwhelming:
"Without a doubt a flawless debut 10/10- AU Review", "4 1/2 stars- Herald Sun, Courier Mail, Daily Telegraph" "An eight-piece mega musical machine" – Drum Media ʻʻThey weren't lying when they named it GOOD TIMES. Everyone wins" – Vice Magazine "As a group, they're a big, bold ensemble with an endlessly imaginative flare, providing a rich and rewarding experience encasing a certain epic quality. It really is a joy to witness it all come together." – Triple Rainbow Tour – TheAUReview "Eagle And The Worm are such a great band. One never is completely sure where their music will take them." Tonedeaf "Best New Talent" Mess and Noise Readers poll 2011 "Single of the Year 2010" All I Know- Messandnoise.com AND Tonedeaf.com
Radio hit and and a crowd favourite "All I Know", started 2011 off with national radio success, breaking EATW Australia wide, Whilst follow up singles "Futureman" and "Too Young" have both been cult radio, 7 inch cuts. Cementing EATWs brand, and radio presence in Australia.
Elsewhere on the Web