Diane Cluck with Anders Griffen
Diane Cluck with Anders Griffen
played at End Of The Road Festival 2010.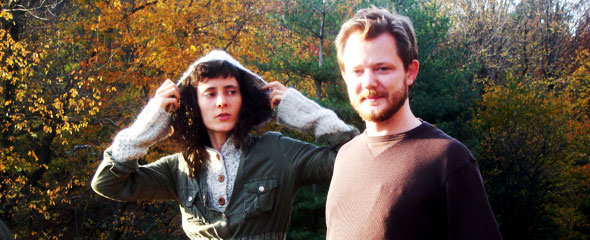 Diane Cluck creates songs in an intuitive folk style. She sings because it feels good. Her unusual finger-picking and strumming style grew out of years spent playing the piano. Basing song on 'feeling', her music communicates beyond barriers of language and genre. She's bang-on happy to be touring with Anders Griffen.
Anders Griffen (Regina Spektor, Frank Lowe, Jeffrey Lewis) is a multi-directional drum set player who performs with a range of choreographers, jazz musicians and song writers. He is characterized by his unique, supportive accompaniment and ability to play in acoustic situations with sensitivity and nuance. He holds a degree in music composition and is the head catalog librarian at the Manhattan School of Music.
Listen to Diane Cluck with Anders Griffen:
Elsewhere on the web:
www.dianecluck.info
myspace.com/dianecluck
myspace.com/andersgriffen